My success as a garden designer lies, in part, in being able to build up a network of trusted partners and suppliers who I can call on to provide me with the best materials possible to enhance the gardens I'm working on.
One of those trusted companies is The Pot Company, a Kent-based business specialising in sourcing garden planters from around the world. I have used their planters in a variety of different garden designs, from traditional to contemporary, and most recently in last year's David Harber Sculpture Garden at The RHS Chelsea Flower Show.
In this guest blog post, Katie from The Pot Company explains what makes Corten Steel such a special material – and takes us through its properties, how it weathers and its extensive versatility in garden design.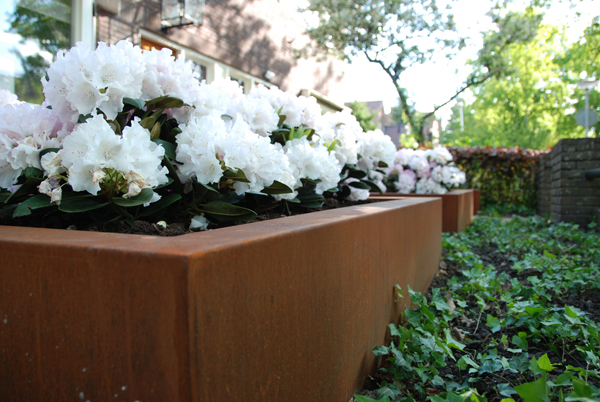 Due to its endless life span and extraordinary strength, Corten Steel's original use was in re-enforcing bridges but its beautiful appearance and low maintenance characteristics have quickly turned it into a sought-after material in garden design.
The warm industrial feel is very on-trend at the moment, and Corten Steel was used as a prominent feature in an award-winning garden at the last Chelsea Flower Show. To make a big impact in limited space, Corten Steel is a great option.
Weathering
Starting out as a blue steel, as soon as it's exposed to the elements it will weather naturally to develop a rich, eye-catching finish. The rust provides a protective seal making these planters virtually indestructible. When you first receive your Corten Steel, it arrives in an un-weathered or partially weathered condition. Once it is placed outside, the weathering process begins. This can take anything from 3-9 months to fully equalise.
Run-Off
During the weathering process, Corten Steel produces carbon run-off which can stain adjacent materials such as stone or concrete. To reduce this possible staining, some Corten Steel products are supplied with small feet or a stand, lifting the product and preventing direct contact with the flooring material. After the initial reactive period Corten Steel will cure and self-seal with little to no carbon run-off.
Pre-Weathering
If you'd rather not have your item weather in your garden, The Pot Company do offer a pre-weathering service where they can accelerate the weathering process in around a fortnight and provide you with a fully weathered product.
We offer planters, burners and water features with bespoke options also available. With over 30 different materials to choose from, you can be certain you'll find the right product for your garden. Our full range can be viewed at www.thepotco.com and purchased through Susan Dunstall Garden Design.